About us
SC VADECO SRL We are a private owned company, with 100% foreign capital from VA INTERTRADING Aktiengesellschaft, Austria (52.5%) and RAIL CARGO LOGISTICS GMBH, Austria (47.5%).
We offer customised solutions for transport to internal and international destinations. The services we keep at our customers' disposal are perfectly adapted to their needs.
The shareholders of our company have been active in Constanta port since 1988, under various names.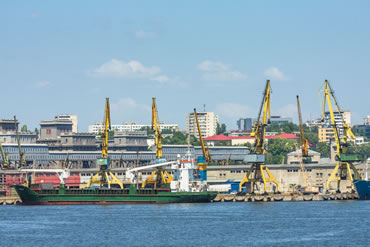 Our company offers the typical services of a shipping agency, including:
- National and international transport;
- Disassembling and reassembling goods in our own warehouses;
- Goods handling;
- Complete logistics services;
- Customs representation services.

Over the years, SC VADECO SRL has built a solid reputation in the transport industry by offering a diversity of road, railroad, air and water transport services. Our main goal is to offer high quality services at competitive prices.
What we do
- We mediate trade in corn, laminated products, ore etc.;
- We mediate internal and external, terrestrial and maritime transport on behalf of internal or external beneficiaries;
1,800,000 tons - ore and coal
1,000,000 tons - oil products
1,000,000 tons - laminated products
2,100,000 tons - general cargo

Our mission
- Our main goal is to become leaders on the transport market.
- Our customers' interest is always our priority.
- Our strong points are our professional team, our capital and our reputation.
- Our aim is to offer our customers high quality services.
- On a highly competitive market of transport, we are constantly seeking to extend relationships with our customers.
- Moral integrity and honesty are the key words of our business.
- Commitment is what keeps us moving.

Our company has implemented the following systems:
18001 – Occupational Health & Safety System
9001 - Quality Management System
14001 – Environmental Management Standard